If you're here for the first time, we consider you our Special Guest!
Be sure to complete the I'M NEW online form by clicking the button below. We'd love to get to know you and answer any questions you may have.


Easter Jam
Saturday, April 1 at 3:30pm -5:30pm – Kapolei Campus

Easter Jam is coming up! This is going to be an Easter celebration big enough for the entire family! Join us for an amazing service, and then plan to stick around for an egg-citing after party! You don't want to miss out!
betrayal & beyond
Thursdays at 6:30pm - 8pm – Zoom

Betrayal & Beyond is a support group for women who have experienced sexual betrayal. The pain and trauma created through sexual betrayal is devastating. The life you thought you had is gone. And now, you are consumed with thoughts and feelings you've never experienced before—thoughts and feelings you can't even describe. With a fresh perspective on trauma treatment, Betrayal & Beyond takes a partner sensitive approach to healing from the effects of sexual betrayal.
men's conference 2023
March 25 at 9am - 2pm – Kapolei Campus

Mighty Men of God, we are the last line of defense that holds back the spiritual forces of evil that desires to rule this world. Do you, Man of God, realize the power of God that you posses within you right now? Come and join other Men of God learn how to unleash the power God has given us to combat the evils of this world today.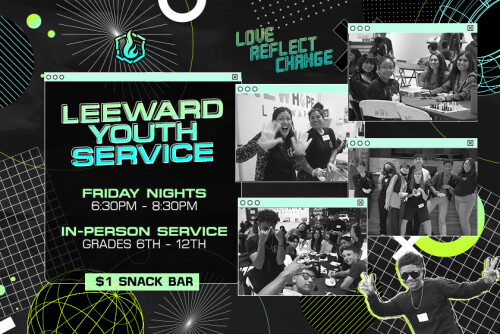 youth services are back
Friday Nights at 6:30pm - 8:30pm – Kapolei Campus

Leeward Youth Service is an in-person service opened to teens from 6th grade - 12th grade. Join us as we teach our youth to know our creator and learn why we were created. It will be an opportunity to have fun, experience God, and fellowship as we grow deeper in the word together!
hugs outreach
Sunday, March 26 at Panda Express Kapolei

HUGS Hawaii cares for families with seriously ill children. Here are two fantastic opportunities to assist these amazing families!
baptism
Saturday, March 18 at 8am – White Plains Beach
Mandatory Orientation: March 14 at 6:30pm – Zoom

If you recently made the decision to follow the Lord Jesus Christ or have never made the next step in your walk with the Lord, we would love to invite you to join us for this water baptism event! This next step in your faith is a way for you to outwardly declare to the world that you are a follower of Jesus and that your are ready to step into your new life with him as your Lord and Savior.


welcome to hawaii brief night
Wednesday, March 29 at 6:30pm - 8pm
Kapolei Campus

For all of you military personnel who have recently PCSd to Hawaii and anyone who recently moved to the islands, we welcome you. This event is being put on by our Military 'Ohana Group who have a heart to help military personnel and anyone who has recently moved here, learn more about local culture and build relationships. If you're not new to the Hawaii but know someone in the military, at your workplace, or your neighborhood who is, please feel free to invite them.